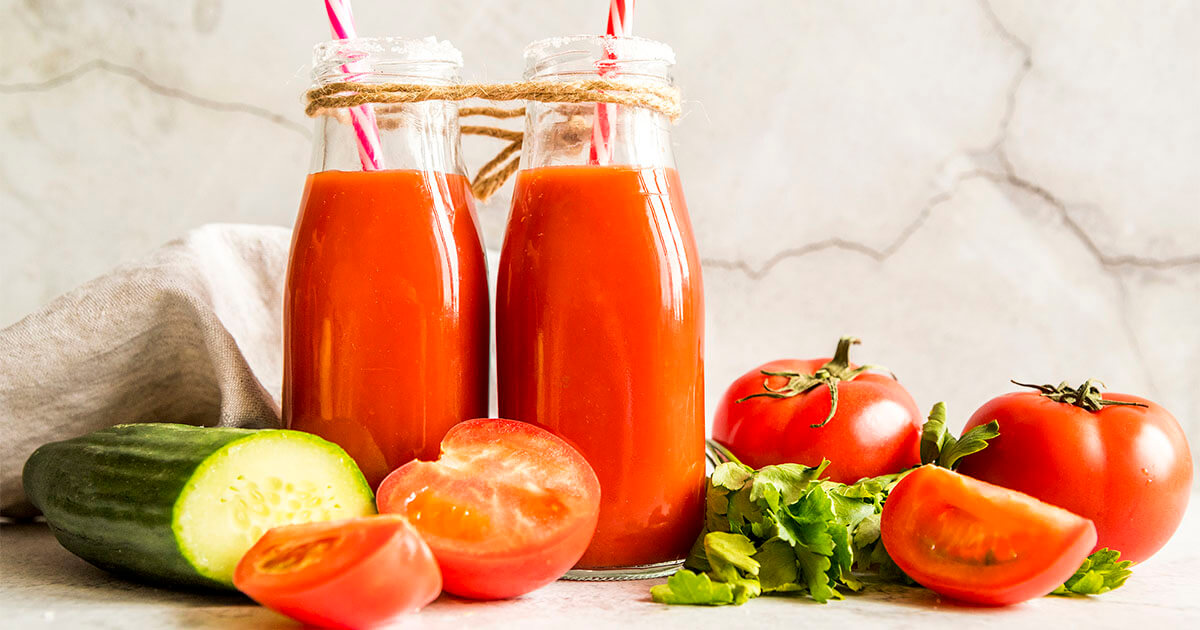 Rich in antioxidant lycopene, folate, manganese, vitamins C and K, potassium, tomato juice is is good for you! Not only that, but it's a classic beverage as a daily preventative measure against illness.
Having a glass of tomato juice instead of a soda, this anti-inflammatory beverage is a great way to bring balance into your body. Here's why.
How Tomato Juice Is Good For You
One of the reasons why tomato juice is good for you is because it stops the growth of cancer cells in humans and reduces inflammation. Lycopene, a highly sought-after carotenoid, is the main antioxidant in tomato juice. This is the nutrient responsible for a tomato's bright red color. In fact, patients diagnosed with cancers such as prostate, stomach, and breast cancer benefited from including tomato juice in their diet.
One cup (8 oz) of tomato juice equals approximately 23 mg of lycopene. The best way to drink it is freshly squeezed with no added sugars. This rich red, juicy fruit originating from South America is healthy and safe to consume daily.
Here are more details on why tomato juice is a great addition to your daily routine.
Aids The Skin
Have you ever tried a home remedy with tomatoes for skin whitening or pigmentation? The application of tomato juice on the face makes the skin brighter and more radiant.
To reduce dullness, dark spots, and pigmentation, you can look up a DIY skin home remedy with tomatoes for a glowing face treatment. It will help shrink open pores, tighten the skin, and treat acne. Also, the juice of tomatoes regulates the secretion of sebum in oily skin, acting as an astringent.
Also, applying tomatoes directly to the skin helps ease the pain that comes with skin irritations or sunburns. You can drink tomato juice to act as a preventative measure against sunburn and apply it topically if your skin is suffering from sun exposure.
Other skin benefits from tomato juicing include:
Increased skin moisture
Fighting cellular damage
Anti-aging properties
Removing dead skin cells
Stimulating collagen production
All in all, tomatoes are truly one of nature's gifts for our health and wellness.
Low In Fat And Calories, Rich In Nutrients And Potassium
Tomato juice helps lower elevated blood pressure in the body because of its high amount of potassium. Potassium also helps lower water retention while aiding digestion. Acting as a mild laxative, tomato may stimulate bowel movement and help prevent constipation. Also, since it's so low in calories, tomato juices support weight loss.
High In Vitamin C
Just one glass of tomato juice equals about 74% of the recommended daily vitamin C intake. Vitamin C is what forms blood vessels, cartilage, muscle, and cartilage in the bones. Moreover, it's crucial for the growth, development, and repair of all the body's tissues.
Therefore, tomato juice helps strengthen our immune system acting as a vital catalyst for the body's healing process.
Unlock More Energy With Jane's Cafe Foods
Tomato juice is not only good for you, but the health benefits of tomato juicing are plenty. Although we've only covered a few, yet it's obvious that tomatoes provide us with many ways to reduce the risk of serious diseases. At Jane's Cafe, we offer a variety of beverages, including tomato juice to keep you energized and healthy!
You may also enjoy reading: Popular Fall Foods