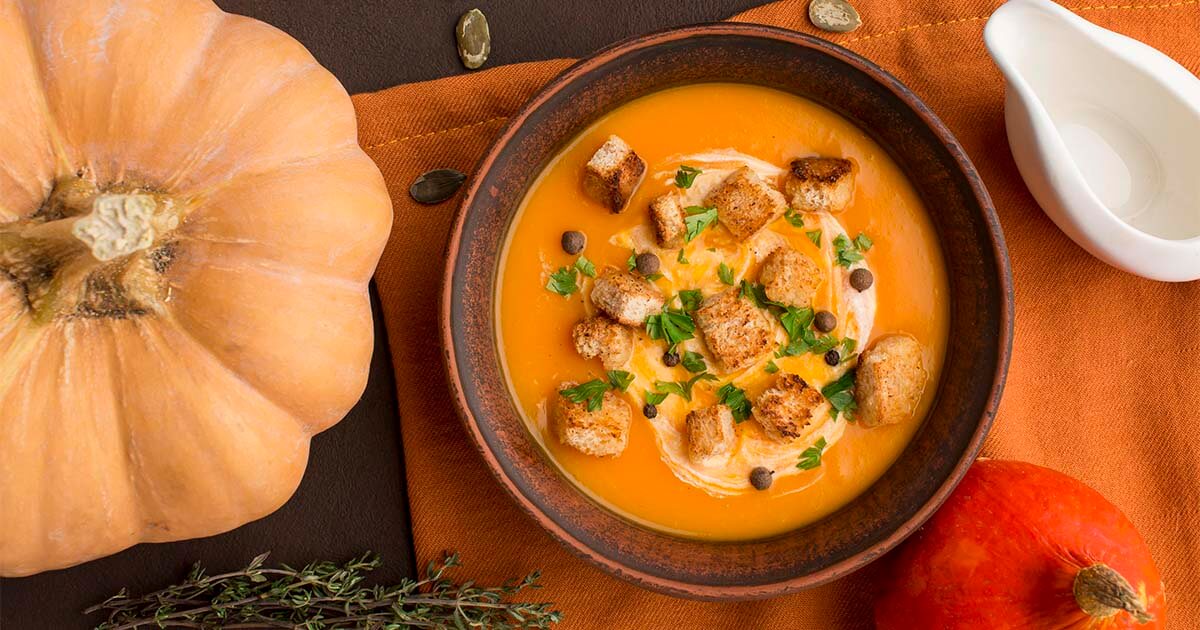 Whether popular or just your favorites, certain fall foods can bring so much joy. Fall is just a few days away, which means changing leaves, shorter days, and football games. But more than that, it's about having your favorite popular fall foods while enjoying the festivities and family.
Not only that, but Fall is also harvest season. And Jane's Cafe is making sure we capitalize on the seasonal vegetables and flavors that everyone craves. Thanksgiving is the #1 day people think of when it comes to fall time dining. But we feel that the entire season is meant to be spent around tables full of seasonally spiced treats and comfort food!
Albeit we all love a good pumpkin pie, we've lined up some popular fall foods that won't have you feeling the least bit basic. So, let's dig in.
1. Soup Is The #1 Popular Fall Food
In addition to having healing properties, soup is one of those foods that tastes great with other foods. It's delicious by itself, but if you need more filler, add sandwiches or bread to your soup meal. And on your not so good days, add lemon juice or ginger tea to help you feel better overall. Moreover, soup is hydrating, can clear sinuses, supports your immune system, and it's packed with minerals and vitamins.
2. Baked Apples
Whether as a snack or dessert, apples are one of the most popular fruits in the United States. In fact, there are over 2,500 varieties grown here. During the fall season, baking is a fun way to enjoy them.
Similar to an apple pie, baked apples are filled with spices, apple slices, and topped with crust. However, baked apples are desserts using the body as a bowl, instead of serving a slice of pie.
3. Pumpkin
Pumpkin is a fall favorite as well as being a superfood when it comes to your teeth. It's amazing how foods that tastes good to you are actually also good for you. So when you're using pumpkin to make your Thanksgiving pie or the seeds for snacks, also consider how it helps your body.
For example, pumpkin contains a variety of important vitamins and nutrients, including vitamins A and C, zinc, beta carotene, and magnesium. These nutrients not only help strengthen enamel, but they can also combat infections and fight of several types of diseases.
4. Brussel Sprouts
Brussel sprouts are small round vegetables that looks like a mini cabbage, but much greener. They are absolutely delicious when roasted or sautéed with nuts as a snack or side dish. And the best part is that this little vegetable is so good for you. It's packed with vitamin K, iron and folate.
5. Cauliflower
Not only can cauliflower be prepared in different ways for fall dishes, but it's also a cruciferous vegetable. This means it's rich in vitamins, minerals and even have anti-cancer properties. Also, it's a light and easy vegetable to digest and has just the right amount of natural sweetness. Cauliflower can be steamed, mashed, or as is and makes a wonderful fall side dish.
6. Sweet Potatoes
Different from yams, sweet potatoes are delicious in addition to containing anti-inflammatory agents. They are an ideal fall side dish and healthier than their white potato counterparts. Baked, roasted, mashed, they provide a beautiful orange color complement to any fall table dinner setting. Two other main benefits of sweet potatoes is they are a high source of iron and vitamin A.
Fall Dishes At Jane's Cafe
At Jane's Cafe in Mission Valley, we offer a variety of fall dishes to suit your tastes. Not only that, but our catering services are ideal for your fall activities such as football games and other activities.