Thanksgiving is nearly here and everyone's waiting for that traditional pumpkin pie. Carving pumpkins doesn't just happen on Halloween, they're also used for various holiday dishes. Pumpkin carving activity is an all-time favorite for the fall.
And for many people, it's an excuse to make use of your pumpkin seed spices. Do you add spices to your Thanksgiving pumpkin seeds to make a tasty treat?
How To Roast Pumpkin Seeds
Seeds from pumpkins are a culinary treasure. Not only are they delicious, but you also get to make the most out of your pumpkin purchase. To make roasted pumpkin seeds at home, get a large carving pumpkin. Generally speaking, they taste just as good or better than small sugar pumpkins.
To move the seeds while preserving the shell for carving, you'll want to cut a lid.
To get at the seeds and preserve the shell for carving, you'll want to cut a lid. With a sharp knife, cut around the stem in a circle or shape of your choosing. Angle the tip of the knife slightly towards the stem. That way you'll create a wedge-shaped lid that will sit snuggly in your pumpkin without falling through.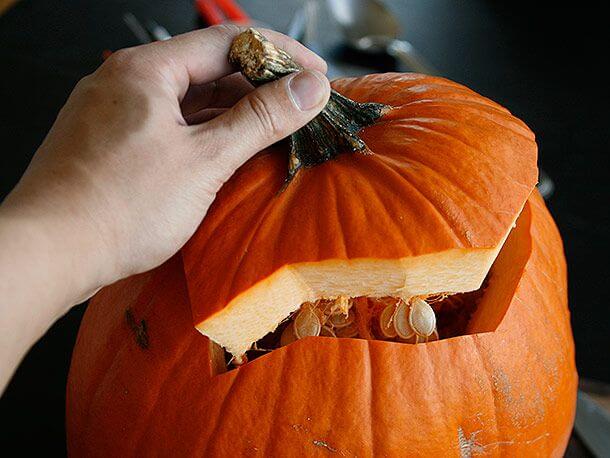 Next, scoop out all those gooey seeds. Each pumpkin holds a different quantity of seeds. So don't bank on having a pumpkin seed feast until you're sure you've got plenty. Scrape the inside of the pumpkin with a large spoon to clean out the seeds. And it's ok if things get a little messy.
Before you roast, you want to rinse the seeds in a big bowl of water to remove the orange slime. Then, place the seeds on a dish towel and lay them on the counter. Pat them dry with a towel. You're now ready to roast and add spices for your pumpkin seeds.
01. Basic Spices For Pumpkin Seeds
Our first set of spices for pumpkin seeds are the classics. First, preheat oven to 300°F. Second, arrange the seeds in one layer on a baking sheet and add olive oil and a pinch of salt. Roast for about 30 minutes, until they're browned and dry. Lastly, remove form the oven, sprinkle with a bit more salt if you like, and you're done.
02. Sweet Roasted Pumpkin Seed Seasoning
The flavors of pumpkin pie obviously pair well with roasted pumpkin seeds. But the trick is getting cinnamon and nutmeg to stick to slippery seeds. While there are other methods of solving this problem, we find that egg whites works well.
To make a batch of these, you're need 3 cups of seeds washed and dried from three large pumpkins. Start by whisking together one egg white with a teaspoon of water until foamy. Add 1/3 cup of brown sugar and big pinches of cinnamon and nutmeg. You can also throw in ginger and cloves, too, if you have them.
Whisk in a pinch of salt, then add the seeds. Use a wooden spoon to help you coat the seeds. After that, scoop them onto a parchment-lined baking sheet. And roast in a 300°F oven for about 30 minutes, tossing every 10 minutes, until the seeds are dry.
03. Spices For Pumpkin Seeds: Spicy Seasoning
Getting spice to stick to your seeds requires the same cooking know-how you acquired in number 2 above.
Again, start with at least 3 cups of seeds. Then whip up an egg white until thick and foamy with a teaspoon of water. Now, add just 2 tablespoons of sugar. Throw in big pinches of your favorite hot spices.
You could use smoky chipotle chili powder, peppery ancho chili powder, and cayenne for pure heat. Get some salt in there too, to make the flavors pop. If you're not a spicy food lover, opt for smoked paprika instead.
Same deal for roasting as we gave up in number 2.
In the mood for more pumpkin? Bring your family to Jane's Cafe for Thanksgiving treats!
You may also enjoy reading: Different Types Of Asian Noodles