Hello 2021! We welcome a fresh start and intentions. If eating more sustainable plant-based meals is on your list, you'll love what we have in store for you.
Jane's Cafe is thrilled to offer plant-based black bean burgers as a protein menu item. It's delicious meat made from plants for meat lovers. Our nutritious meat alternative provides the same amount of protein as ground beef.
Why Eat Plant-Based Black Bean Burgers?
Compared to ground beef, our protein based burger has no cholesterol, and of course, no antibiotics or animal hormones. But the best part is…what for it. Plant-based burgers also have few calories than ground beef. Also, eating more plant-based meals has many benefits for your health, and this makes it enticing for everyone.
Our protein burgers are also sustainable food, so it's better for the environment. In fact, it uses 96% less land and 87% less water. Plus, it generates 89% fewer greenhouse gas emissions compared to beef from cows.
We can't wait for you to try our plant based season meat made in our black bean burgers signature entrees.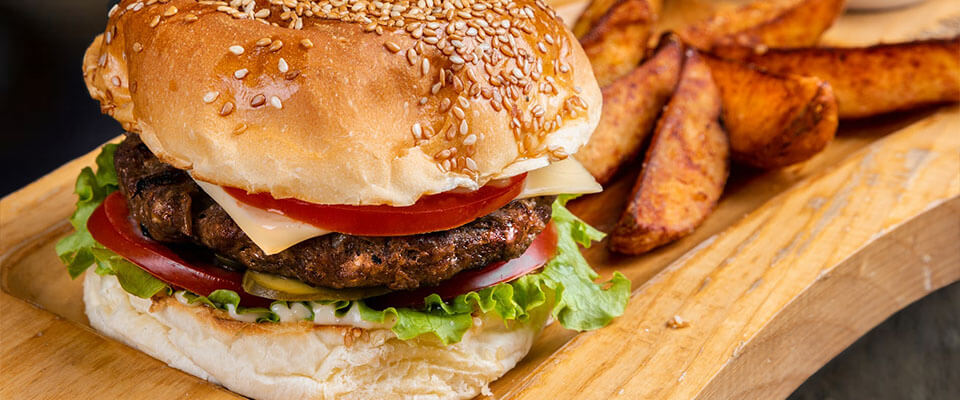 And if you want to try an easy, plant-based burger at home, you can order them for delivery online. They are sure to please every member of your family. It's served on a sesame bun with spring mix, Roma tomatoes, avocado, vegan cheddar cheese and organic horseradish mustard dressing.
Not only is our black bean burger pleasant and savory, it's also shockingly beautiful. And the taste is equally satisfying.
At Jane's Cafe, we have set ourself apart from all the other restaurants and cafes. Our goal is to capture health and environmentally conscious diners. We don't want to eat beef-imitating burgers in an effort to save the world. We want our customers to enjoy eating vegetables!
You may also enjoy reading: How To Make Christmas Cranberry Cheesecake Bars