Having great lunch ideas for kids not only fills them up, but it also keeps them focused and happy. These lunch ideas incorporate things that kids love. For instance, food you can eat with your hands, and bright colors. Not to mention the hearty vegetables that pack a powerful nutritional punch.
Whether you're exploring distance learning or receiving in-person instructions, you need lunch. Parents, kids, and adults in school look forward to this time of day. And for the best type of midday meal you need good lunch ideas for kids.
Regardless if you're home-schooled or traditional classroom, back to school means lots of lunches. On our lunch menu, we have over 6 protein boxes that are easy school lunch ideas for your inspiration.
Packing lunches for parents can be stressful. With that in mind, we're sharing some of our go-to lunches.
Lunch Packing Tips
Let's talk tips that will help you keep things simple, familiar and colorful.
Keep it simple – Keeping things simple when packing lunch is key. When we shop for lunch box add-ins, we pick up a whole lot from the produce section first. Think easy-to-eat fruits and veggies that can be cut into cubes, sticks, and slices. Also, quick, grab-and-go options like mini sandwich crackers, apple sauce cups, and cheese sticks. To make things even easier, don't forget to check out our pre-packed protein boxes.
Colorful and fun – While we all eat with our eyes first, this is especially true for kids. So, overall presentation, fun and colorful food can be really important. Albeit kids like things added to their lunch, older kids and adults do too! So, in addition to colorful food, cutting hearts into sandwiches is a fun way to liven up the meal.
These lunch ideas for kids can transform a meal into something pretty great. A generous pop of color and creativity can make lunch so much more exciting for both kids and adults.
Stick with the familiar – For smaller kids, school lunchtime is probably not the best time to introduce new foods. Instead, we recommend saving new foods for weekends or dinnertime, and familiar foods for lunch.
Lunch Ideas For Kids
So now that we have covered a few simple tips, let's take a look at two go-to lunches and show you how to make them happen.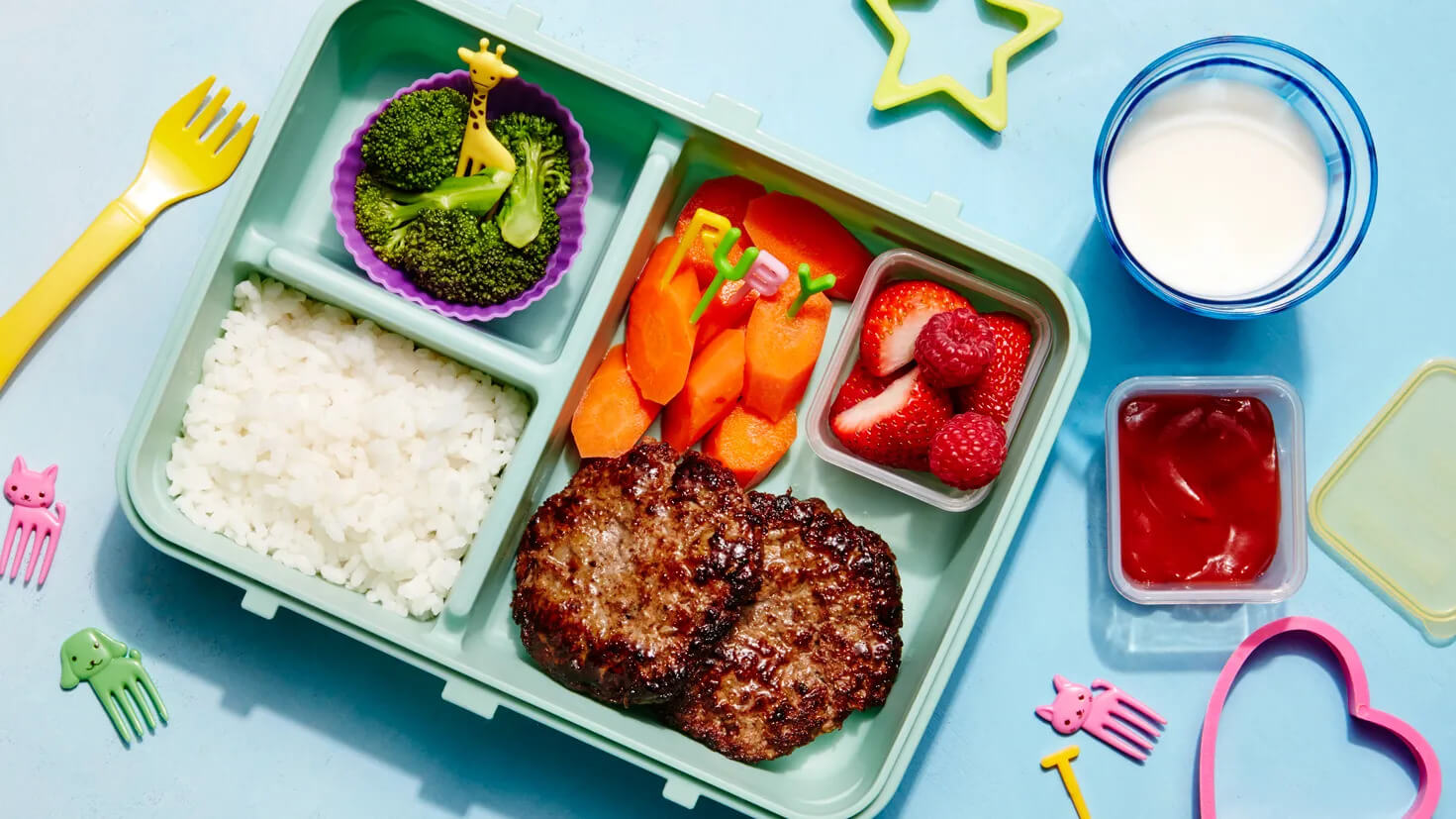 Mini Meat Patties and More
Finding yourself in a sandwich rut after a few weeks? Or your kids don't particularly like sandwiches? Here's an alternative. Cook up small meat patties ahead of time so you quickly pack them in the morning for school. More wholesome lunch box add-ins include, rice, broccoli spears, carrots, and sliced strawberries. And don't forget the dipping sauce because kids love dips.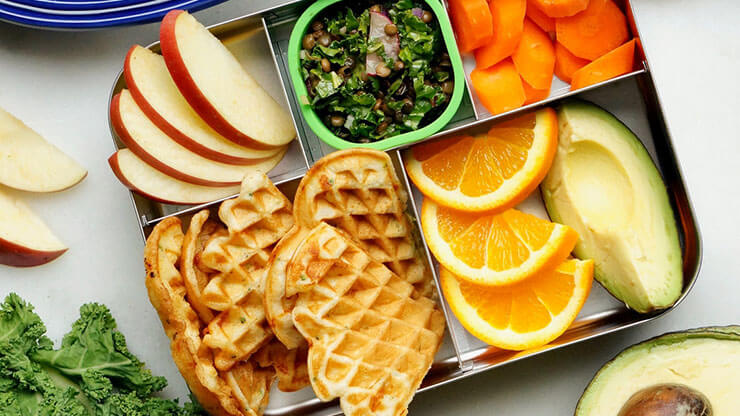 Breakfast For Lunch
If we let them, kids would need breakfast foods for every meal of the day. So, occasionally surprising them with a taste of breakfast in their lunch box is a fun change of pace. Some great options to add in your breakfast box includes: waffles, sliced apples and oranges, and carrots.
You may also enjoy reading: 5 Different Types Of Grains You Should Know